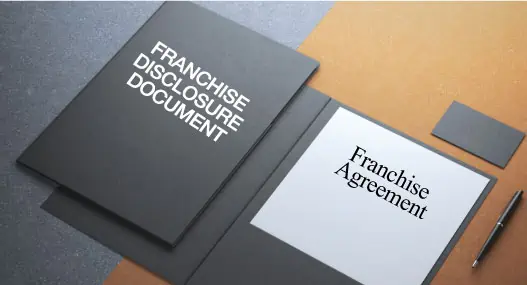 The Franchise Disclosure Document ("FDD") and the franchise agreement are two important documents that can be a source of confusion to a first-time franchisee. Before joining a franchise system, it is important to know the difference so that you understand your rights and obligations as a franchisee.
The Federal Trade Commission ("FTC") requires every franchisor to disclose 23 specific items in the FDD before a franchise sale. The FDD lays out the ground rules for how the franchise is required to operate and the obligations of both the franchisor and franchisee in operating the franchised business. The FDD provides the fees and costs associated with building out and operating the franchise business, historical information about the franchisor and its officers, the financial performance of the franchise, and the support a franchisee can expect in operating the franchise business.
Disclosure of all the items required by the FTC helps prospective franchisees evaluate the franchise system to determine if they would like to invest in the franchise. It is also essential to understand the information contained in the FDD because it allows a prospective franchisee to make an informed decision before purchasing a franchise and identify certain terms that may be negotiable with the franchisor.
The franchise agreement, on the other hand, is the legally binding contract between the franchisor and franchisee. Although many portions of the FDD are reflected in the franchise agreement, the franchise agreement sets the terms that govern the relationship between the franchisor and franchisee, such as royalty fees, brand fund fees, use of the franchisor's trademarks, size and exclusivity of the territory, and duration of the relationship. Any terms that are negotiated with the franchisor based upon a review of the FDD will be incorporated into the franchise agreement. The franchise agreement also addresses the dispute resolution process if the relationship with the franchisor does not turn out as expected.
The FDD will likely change every year. New growth, changes in the system, operational requirements, territory sizes, and even fees can be adjusted and modified as a franchise system matures.
But the franchise agreement should remain unchanged for the term of the agreement.
Because of the differences between the FDD and the franchise agreement, we highly recommend you have an AKC franchise attorney review both documents thoroughly before purchasing a franchise or launching a franchise brand. Contact Greg at [email protected] for assistance.