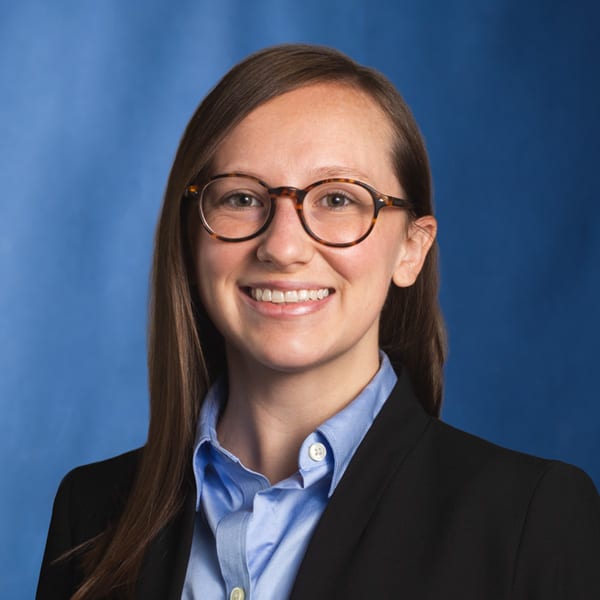 Julie M. Ryan
Areas of Practice:
Appellate Law, Civil Litigation, Employment Law, Insurance Defense, Med-Mal Defense
Julie Ryan joined Abrahams Kaslow & Cassman LLP in 2020. Before joining the firm, she served as a Judicial Law Clerk for the Nebraska Court of Appeals. As a Judicial Law Clerk, she was afforded a unique vantage point, analyzing an array of cases from criminal and family law to intricate civil appeals. This pivotal role granted Julie the distinctive ability to fully comprehend both sides of an argument, rooted in her firsthand experience with the nuanced application of Nebraska law.
As a member of AKC Law's Litigation department, Julie harnesses her impeccable skills in persuasion, organization, and legal research. When working with Julie, clients are assured of astute representation across Civil Litigation, Appellate Litigation and Appeals, Insurance Defense, Medical Malpractice, and Employment Law domains.
An Omaha native, Julie received her Bachelor of Science in Financial Economics, magna cum laude, from Spring Hill College in Mobile, Alabama. A consistent name on the Dean's List, Julie not only showcased her academic prowess but also emerged as a Presidential Scholar in Financial Economics.
Julie earned her Juris Doctor from Creighton University's School of Law, graduating cum laude. Notable achievements marked her time at Creighton: serving as a student articles editor for the Creighton Law Review, serving as a commendable Legal Writing Center Associate, and distinguished as the Best Brief Candidate in the University's Moot Court Competition. Moreover, her role as the Brief Editor for the Saul Lefkowitz Moot Court Competition further accentuates her capabilities. To crown her academic endeavors, Julie was honored with two CALI Excellence Awards for Legal Research and Writing and Civil Procedure.
Julie is a member of the Junior League of Omaha and has served as an Attorney Coach for Duchesne Academy High School Mock Trial Team. She is also active in the Defense Research Institute and the Robert M. Spire American Inns of Court.
Admitted to the Nebraska State Bar Association and the U.S. District Court, District of Nebraska, Julie's insights, combined with her balanced perspective from her judicial clerkship, positions her as an indispensable asset.
BAR ADMISSION
U.S. District Court, District of Nebraska
EDUCATION
J.D., cum laude, Creighton University School of Law
B.S., magna cum laude, Financial Economics, Spring Hill College, Mobile, Alabama
HONORS & AWARDS
Creighton Law Review, Student Articles Editor (2017-2018), Member (2016-2017)
Legal Writing Center Associate (2017-2018)
CALI Excellence for the Future Award in Legal Research and Writing III §E (Fall 2016)
CALI Excellence for the Future Award in Civil Procedure II §A (Spring 2016)
Creighton University School of Law Moot Court Competition, Best Brief Candidate (Fall 2016)
Saul Lefkowitz Moot Court Competition, Team Member and Brief Editor (2016-2017)
American Association for Justice Student Trial Advocacy Competition (Spring 2018)
Barbri Student Representative (2016-2017)
Business Law Society, Secretary (2016-2017), 1L Representative (2015-2016)
Employment and Labor Law Society (2016-2017)
Law Dean's Academic Scholarship (2015-2018)
Abrahams Milton & Pauline Scholarship (2016-2017)
Daly, J & A Hanighen Law Scholarship (2017-2018)
REQUEST A CONSULTATION
Please fill out this form to provide AKC Law with information on your legal needs. An attorney will reply as soon as possible. Please note that we are a Business Firm, and we do not handle criminal cases.
**The use of the Internet or this form for communication with the firm or any individual member of the firm does not establish an attorney-client relationship. Confidential or time-sensitive information should not be sent through this form.**